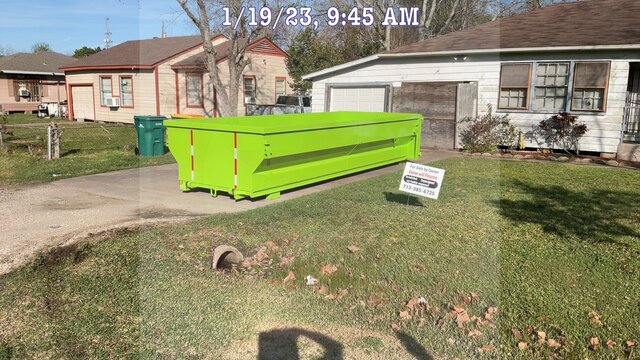 Size: Dimensions: 20x8x4
Days: Rental Time: 10 Days
Rent Time Extension: Additional Days: $15/day
Ton(s): Tons Included: 2 included
Extra Weight: Extra Weight: $85/ton
Description
Mattresses: $150.00 Per Mattress plus applicable taxes
Tires: $75 Per tire plus applicable taxes

Prohibited Items:
Air Conditioner units
Refridgerators
Whole Tires
Motors
Batteries
Bulk Liquids (Oil, Paint any fluid in a container)
CD Players
Circuit Boards
Computers (CPU's)
Copiers/Fax Machines
Electrionics (TV's, Monitors, Computers, DVD Players ect.)
Explosives
Medical Equipment
Hazardous Material
Chemicals
Animal carcasses
Any and all additional fees for Special waste, Hazardous waste, overweight and overfilled fees will be forwarded/charged back to the customer.
Texas Roll Off: Your Go-To for Large-Scale Waste Management with Our 20-Yard Dumpster Rentals
At Texas Roll Off, we understand the challenges of managing large-scale waste. That's why our 20-yard roll-off dumpster rental is the ideal solution for your significant cleanup projects and construction tasks. Designed with the needs of Texans in mind, our dumpsters combine substantial capacity with the convenience necessary for larger projects.
Key Features of Texas Roll Off's 20-Yard Dumpster Rental
Dimensions: Measuring 20 feet in length, 8 feet in width, and 4 feet in height, our dumpsters fit perfectly in larger driveways and construction sites across Texas.
Rental Duration: Rent our dumpsters for up to 10 days, providing ample time for your extensive projects. Need more time? We offer flexible extensions.
Capacity: Handle ample amounts of material, with 2 tons included in the price, ideal for significant construction debris and bulky household items.
Extra Weight Handling: We accommodate projects exceeding the weight limit with an additional service, ensuring all your waste management needs are covered.
Versatile Uses for Our 20-Yard Dumpster Rentals
Texas Roll Off's 20-yard dumpsters are also highly sought after for their utility in community clean-up initiatives, large-scale landscaping projects, and as a dependable solution for waste management during property foreclosures or estate cleanouts. These dumpsters are particularly beneficial for cities and municipalities undertaking neighborhood revitalization or public space beautification projects. Their size and capacity make them an excellent choice for efficiently handling the diverse waste generated during such extensive undertakings, demonstrating the versatility and adaptability of Texas Roll Off's services to a wide range of community and commercial needs.
Homeowners: Perfect for large-scale home renovations, garden makeovers, or major cleanouts.
Businesses: Ideal for comprehensive business renovations or office cleanouts.
Contractors and Builders: A match for significant construction projects.
Event Organizers: Efficiently manage waste at larger events.
Real Estate and Property Management: Essential for major property cleanouts.
Why Choose Texas Roll Off's 20-Yard Dumpster?
Choosing Texas Roll Off for your dumpster rental needs means opting for unparalleled reliability and exceptional customer service. Our company stands out in the Texas waste management industry for our prompt, efficient service and competitive pricing. We pride ourselves on our professional approach, ensuring that every dumpster rental meets the specific needs of your project, whether it's a large-scale construction job, a significant home renovation, or a community event. Our 20-yard dumpsters are designed for versatility and ease of use, accommodating a wide range of waste management requirements. Furthermore, our commitment to environmental responsibility ensures that your waste is handled in an eco-friendly manner. With glowing customer reviews attesting to our quick response times and consistent reliability across various projects, Texas Roll Off is your trusted partner for effective and hassle-free waste management solutions.
Diverse Applications: From home renovations to large construction sites, our dumpsters are suited for a variety of extensive projects.
Customer-Centric Approach: We prioritize your needs, offering flexible rental periods and reliable service.
Environmental Responsibility: Committed to sustainable waste management practices, we ensure responsible disposal of your waste.
FAQs for Renting Our 20-Yard Dumpster
What can I put in the dumpster?
Suitable for a range of materials, adhering to environmental guidelines.
Rental Period
Flexible options to suit your project timeline.
Weight Limit
A designated limit suitable for larger projects, with additional services for excess weight.
Scheduling and Pickup
Easy arrangement of pickup times to fit your schedule.
Loyal and Happy Customer Reviews with Our 20 Yard Roll Off Containers
Discover why Texans choose us for their large-scale waste management needs through our customer testimonials. Texas Roll Off has garnered impressive reviews from its customers, reflecting their commitment to quality service and customer satisfaction. Here are some highlights from their Google Maps listing:
Professional and Responsive Service:

A customer praised Texas Roll Off for their first-rate, professional employees. They highlighted how the company promptly provided the necessary equipment within a couple of hours, especially appreciating the quick response to a last-minute request.

Efficient and Cost-Effective:

Another review commended the efficiency of Texas Roll Off, noting the ability to get a 40-yard dumpster at a competitive price and with same-day service in Texas City. The reviewer was impressed with the quick delivery, mentioning that the dumpster arrived within two hours of placing the order.

Reliability for Ongoing Projects:

A regular customer, who runs a home renovation business and does fix-and-flips, shared their experience of using Texas Roll Off multiple times. They emphasized the company's reliability in getting jobs started and appreciated the consistent service across Galveston County.
These reviews underscore Texas Roll Off's dedication to providing excellent service, quick response times, and reliable support for various projects. Their ability to meet customer needs promptly and efficiently makes them a top choice for dumpster rental services in Texas.
Effortless Ordering Process: Book your 20-yard dumpster online with ease, and get ready to tackle your project with confidence.
Contact Texas Roll Off for Personalized Assistance: Reach out to us via phone, email, or visit our local office for tailored support for your waste management needs.