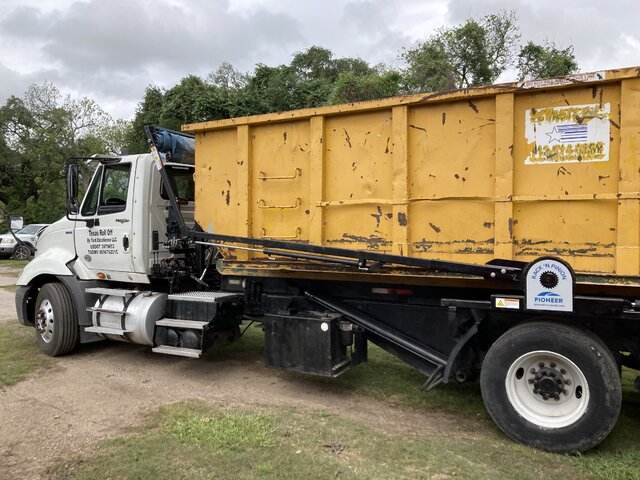 Size: Dimensions: 22x8x7
Days: Rental Time: 10 Days
Rent Time Extension: Additional Days: $15/day
Ton(s): Tons Included: 4 included
Extra Weight: Extra Weight: $85/ton
Description
Mattresses: $150.00 Per Mattress plus applicable taxes
Tires: $75 Per tire plus applicable taxes
Prohibited Items:
Air Conditioner units
Refridgerators
Whole Tires
Motors
Batteries
Bulk Liquids (Oil, Paint any fluid in a container)
CD Players
Circuit Boards
Computers (CPU's)
Copiers/Fax Machines
Electrionics (TV's, Monitors, Computers, DVD Players ect.)
Explosives
Medical Equipment
Hazardous Material
Chemicals
Animal carcasses
Any and all additional fees for Special waste, Hazardous waste, overweight and overfilled fees will be forwarded/charged back to the customer.
Texas Roll Off: Premier Choice for Comprehensive Waste Management with Our 30-Yard Dumpster Rentals
At Texas Roll Off, we recognize the complexities involved in handling substantial waste management projects. That's why we offer our 30-yard roll-off dumpster rental as the perfect solution for your major cleanup endeavors and extensive construction activities. Tailored to meet the demands of larger-scale projects in Texas, our 30-yard dumpsters provide an exceptional balance of vast capacity and user convenience.
Key Features of Texas Roll Off's 30-Yard Dumpster Rental
Dimensions: Our 30-yard dumpsters, measuring 22 feet in length, 8 feet in width, and 7 feet in height, are ideally suited for expansive driveways and large construction sites throughout Texas.
Rental Duration: We offer a standard rental period of 10 days, ensuring you have sufficient time for your comprehensive projects. For longer needs, we provide the option of extending the rental at a nominal rate.
Capacity: Designed to handle up to 4 tons of material, these dumpsters are perfect for managing significant amounts of construction debris, large household items, and more.
Additional Weight Handling: For projects that exceed the included weight limit, we offer an extra weight handling service at a reasonable rate, ensuring all your waste disposal requirements are met.
Diverse Applications of Our 30-Yard Dumpster Rentals
Texas Roll Off's 30-yard dumpster rentals are designed to cater to an extensive range of applications, meeting the diverse needs of both residential and commercial clients. These large-capacity dumpsters are the perfect solution for projects that generate significant amounts of waste, ensuring efficient and effective waste management. Whether it's for large-scale construction projects, extensive home renovations, or significant commercial cleanouts, our 30-yard dumpsters provide the necessary space and durability to handle all types of debris. Their versatility makes them an indispensable tool for various sectors, streamlining the process of waste disposal and contributing to a cleaner, more organized work environment. Below are some of the key applications where our 30-yard dumpsters prove to be exceptionally useful:
Large-Scale Residential Projects: Ideal for extensive home renovations, major landscaping overhauls, and significant property cleanouts.
Commercial and Business Use: Perfect for substantial business renovations, office expansions, and large-scale cleanouts.
Construction and Development: A go-to choice for major construction projects, including new building developments and significant remodeling work.
Event Management: Efficiently handle waste for large events, festivals, and public gatherings.
Real Estate and Property Management: Invaluable for extensive property cleanouts, especially in preparation for sales or rentals.
Why Opt for Texas Roll Off's 30-Yard Dumpster?
Choosing our 30-yard dumpster rental means selecting a service known for its reliability and exceptional customer care. Texas Roll Off is a leader in the Texas waste management sector, renowned for our prompt, efficient service and competitive rates. Our professional team ensures that each dumpster rental is perfectly suited to the specific requirements of your large-scale project. The 30-yard dumpsters are not only versatile but also user-friendly, catering to a broad spectrum of waste management needs. Committed to environmental stewardship, we ensure eco-friendly disposal of your waste. Our customer reviews consistently highlight our quick response and unwavering reliability, making us the preferred choice for your significant waste management challenges.
Diverse Applications: From home renovations to large construction sites, our dumpsters are suited for a variety of extensive projects.
Customer-Centric Approach: We prioritize your needs, offering flexible rental periods and reliable service.
Environmental Responsibility: Committed to sustainable waste management practices, we ensure responsible disposal of your waste.
FAQs for Renting Our 30-Yard Dumpster
To assist you in making the most informed decision for your waste management needs, we've compiled a list of frequently asked questions about our 30-yard dumpster rentals. These FAQs are designed to provide clarity and guidance on key aspects of our rental service, from what materials can be disposed of to the specifics of rental periods and weight limits. Understanding these details will ensure a smooth rental experience and help you efficiently plan and execute your project. Here are some common inquiries and their answers to help you get started:
Acceptable Materials
Our dumpsters are suitable for a variety of materials, in compliance with environmental regulations.
Rental Period Flexibility
We offer adaptable rental periods to align with your project schedule.
Weight Limit Considerations
A designated weight limit is set for larger projects, with additional services available for excess weight.
Scheduling and Pickup
Arrange pickup times conveniently to suit your project timeline.
Effortless Ordering Process and Personalized Assistance
Booking a 30-yard dumpster with Texas Roll Off is a smooth and straightforward process. Our online system allows you to select, schedule, and manage your rental with ease. For any personalized assistance, our team is just a phone call or email away, ready to provide tailored support for your waste management needs.
Customer Reviews for Texas Roll Off
The positive testimonials from their clients show that Texas Roll Off has a strong reputation for providing exceptional service. Here's a summary of what clients are saying on their Google listing:
Rapid and Professional Service: A customer recounted their experience with Texas Roll Off, emphasizing the company's swift and professional response. When a last-minute requirement arose, the customer was pleased with how quickly Texas Roll Off delivered a 40-yard dumpster, ensuring that their project in Pearland didn't experience any delays.
Unbeatable Prices and Speedy Delivery: In another review, a client praised Texas Roll Off for offering the most competitive rates for a 20-yard dumpster in the La Marque area. The reviewer was particularly satisfied with the prompt delivery service, noting that the dumpster was delivered within two hours after the order was placed.
Consistent Reliability for Ongoing Projects: A frequent user of Texas Roll Off, who operates a home renovation and property flipping business, lauded the company for its dependable service. They